THE ONLY SYSTEM FOR MEASURING RUNNING TECHNIQUE AND POUNDS OF FORCE FOR EVERY STEP AN ATHLETE TAKES!
The RunRite System measures, monitors, & calculates the possibilities for athletes to improve any running and fitness performance!
The System
tracks and monitors
​
Impact
Effort
Pounds of Force
for every step an athlete takes while...
Running
​
Jumping
​
Cutting
​
Landing
Coaches may use our preset "technique" range of motion data points or adjust for each athlete.
REAL TIME "LIVE " SCREEN YOU'LL VIEW WHILE
YOUR ATHLETES ARE USING THE RUNRITE SYSTEM
APPLE (iOS) AND ANDROID DEVICES
Individual Leg Strength & Power Output
(Your Effort Level in Pounds of Force)
​
Ground Impact Forces
(Pounds of Force per Step)
​
The Amount of Time
for Each Step You Take
(Step and Stride Rate)
​
Wasted Motion & Movement Efficiency
(Your Actual Fitness Level while Running)
Foot/Ankle/Knee/Hip Strength
(While Running or Jumping)
​
Individual Leg Effort and Fatigue
(Strength & Explosiveness)
​
Running & Jumping Fitness & Endurance
(Effort Pounds of Force over time)
​
Overall Workload In Pounds of Force
(Performance and Fitness Potential)
INSTANTLY ALERTS COACHES AND ATHLETES
OF BREAKDOWNS IN ACTUAL RUNNING FORM
INSTANTLY ALERTS ATHLETE
OF BREAKDOWNS
IN RUNNING FORM
Visual & Audible BioFeedback
Alerts Each Coach When Athlete has Achieved or Failed to Achieve Predetermined Goals for Power or Range of Motion including...
​
Knee Lift
​
Leg Extension/Drive
​
Leg Swing
​
Leg Twist
Power Symmetry
Balance
INSTANTLY PROCESSES THE RESULTS TO GENERATE REPORTS
​
DATA ANALYSIS AND INSTANT REPORTING
Reports are generated instantly because every step is being analyzed while the athlete is running or jumping
​
STORAGE OF ALL YOUR DATA ON THE DEVICE AND OUR CLOUD SERVERS
All of your data is stored for processing
​
AUDIBLE BIOFEEDBACK
Verbal Commands &Verbal Tones give the Athlete Feedback​
​
ADD YOUR OWN EXERCISES TO DATABASE
Our backend database allows ou to add your favorite exercise to address the muscles strength or mobility issues
​
SET YOUR OWN RANGE OF MOTION AND POWER GOALS FOR ATHLETES
Add your own numbers and we'll still generate a report for you based on your goals or coaching philosophy.
Instantly Communicate Customized Corrective Exercises To Your Athletes
Each athlete is given a login in to access their corrective exercises or coaching recommendations from your assessment of their biomechanics. Any athlete with an iOS or Mobile device can download our software and sync any pair of RunRite Sensors to their devices to perform workouts on their own.
​
​
View a google map of where, when and how you or your athletes completed their workout!
​
You'll know exactly where in the your training run or workout your body starts to fall apart and you begin to exert too much energy or waste effort in real time!
GENERATE A RUNNING EFFICIENCY SCORE!
WHAT YOU'LL SEE WHILE RUNNING
THE OLD WAY
TO ANALYZE RUNNING TECHNIQUE

If you have ever filmed anyone's "running technique" and tried to analyze it, it can be exhausting work to get it right. Video is a useful tool, especially when it confirms what you believe. But What about what you don't know, you don't know and what you can't see with the eyes..
​
Coaches who use this method spend 80% of the "analysis time" filming and reviewing videos, reading and sending emails or texts and only 20% of their time actually working with athletes.
Using the nagging editing tools on apps trying to draw and display accurate joint angles or constantly having to nag other professionals for the results and waiting days and weeks to get a bunch of numbers that could mean anything to anyone— This isn't the way to run a coaching business.
​
When something goes wrong with fitness, technique or an injury occurs, you have to find a biomechanics lab that will give you data and then you have to spend hours looking at data trying to figure out what went wrong and why.
​
What if there was a solution that helped you focus less on assessing athletes and more on what mattered? Coaching your athletes to achieve their goal.
​
THE NEW WAY
TO ANALYZE RUNNING TECHNIQUE & POWER
THE RUNRITE SYSTEM MEASURES RUNNING TECHNIQUE AND POUNDS OF FORCE FOR EVERY STEP AN ATHLETE TAKES!
PINPOINT THE ROOT CAUSE OF ISSUES IN THE BODY
ALL OF THE RESULTS AND RECOMMENDATIONS FOR YOU AND YOUR ATHLETES

IN ONE PLACE!
VALUABLE BIOMECHANICS DATA
Former NFL Wide Recevier Anquan Boldin RECEIVED
A runRite ACCESSMENT
Improve 40 yard Dash! - For real!!!!
Anquan's assessment showed where he was losing almost 3/10 of a second in the first 20 yards of his 40 yard dash and placing over 70% more stress on his right knee and right leg hamstrings. Addressing the issues cut 2/10 off his 20 yard dash...all in less than 2 weeks.
​
"It nailed my weaknesses. I cut 2/10ths of a second off my 20 yard dash in less than 10 days and my booty has lifted from doing the exercises it gave me..."
​
Annie Burlingham- Pole Vaulter
I had chronic ankle injuries in college and I discovered why the symptom always came back. The RunRite System tells me what I need to do to improve my running technique and prevent injuries! "
​
Teddy Lampkin - Former Collegiate Long jumper
The RunRite System - It's not just for elite athletes
Victor V. - Age: 47
Mesa, AZ
"I went from 8:30 mile pace in my last marathon to 7:45 pace less than 6 weeks after taking the RunRite Challenge. I was afraid to run fast in training because of chronic injuries. But after the first 10 days of doing my stretches my body felt amazing with no signs of Achilles pain while running!"
Eric P. - Age: 43
Phoenix, AZ
"This is the most advanced analysis I have ever seen for a runner. Less than 2 weeks after my analysis I cut over 6 minutes off my 8K personal best!"
Cindy K. - Age: 36
Scottsdale, AZ
"I'm in my first year of training for a marathon. I thought I couldn't run due to a history of knee problems. But since less than a week after my analysis, I've been able to run as many as
10 miles on any day with no knee or foot pain for over 3 months."
The RunRite System Kit includes a variety of sizes of sensor bands in different sizes.

The bands are elastic, velcro and neoprene. Each is designed to hold the sensors appropriately and work best when worn under any workout or compression tights and placed directly against the athlete's skin!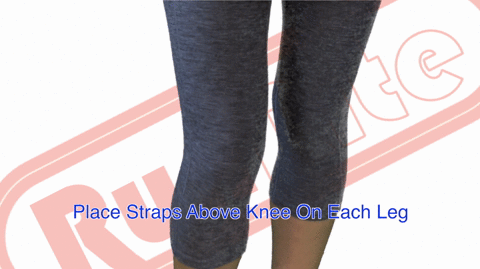 ARE YOU READY TO HOST

​
THE CHALLENGE with ZIG ZIEGLER
in your retail store, sports program, school, or facility?
​
The RunRite System is available to licensees and affiliates of The RunRite Challenge. If you are a coach, facility owner, trainer or looking to be a part of a movement to assist runners and athlete s who run to train for their sport in achievoing breakthroughs in their performance while reducing their risk of injuries...contact us now!